The Court Administrator, under the direction of the President Judge, oversees the administration of the court and its various departments.
Any questions regarding scheduling of court proceedings and general court operations should be directed to the staff of the Court Administrator's Office. They will be happy to assist you in any way that they can. However, you should note that they cannot provide legal advice. You should consult with your attorney for assistance specific to your situation.
The Court Administrator's Office for both Warren and Forest Counties is housed at the Warren County Courthouse. The Judges and supporting staff all maintain offices in Warren County.
Contact Information
Court Administrator's Office
Warren County Courthouse
204 Fourth Avenue
Warren, PA 16365-2362
Phone: (814) 728-3530
Fax: (814) 728-3452
Office Hours
8:30 AM – 4:30 PM Monday – Friday
Location
The Office of the Court Administrator is located on the second floor of the Warren County Courthouse and can be accessed by either elevator in the building. Get directions to the Courthouse.
Court Calendar
2022 Annual Court Calendar
2023 Annual Court Calendar
Judges
The Honorable Maureen A. Skerda, President Judge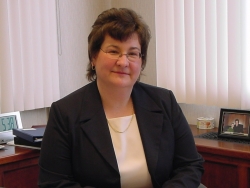 Maureen A. Skerda was elected as the first female Judge of the 37th Judicial District and began her term of office in January, 2006. Judge Skerda became the 26th President Judge on January 1, 2010.
She practiced law in Warren and Forest Counties since 1988 as a staff attorney at Northwest Legal Services, Assistant District Attorney and served as Court Hearing Officer from 1992 through 2005.
Judge Skerda is a graduate of Rosary High School, Aurora, Illinois, Illinois Wesleyan University and the Antioch School of Law in Washington, D.C. Prior to assuming the bench, she served for 17 years as a Master in Divorce and Equitable Distribution, Support matters, juvenile dependency and delinquency matters.
She is a member of the Pennsylvania Bar Association, Pennsylvania State Conference of Trial Judges and the National Association of Women Judges. She participates in the State Leadership Roundtable and the Guiding Principles Committee on Juvenile Dependency issues. She is active in her community and has served on a number of boards including the MH/MR, ATOD and CYS advisory boards, Economic Opportunity Council and Warren General Hospital's Hospice Ethics Committee.
She is married and her family includes her stepson, daughter-in-law and three grandchildren .
The Honorable Gregory J. Hammond, Judge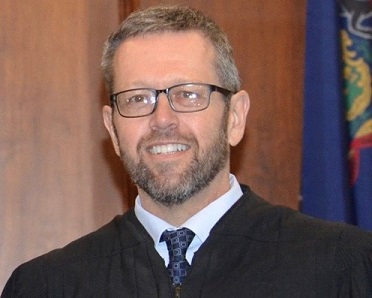 Gregory J. Hammond was elected as Judge in November, 2009, and commenced his first term in January of 2010. He was retained for a second ten-year term in November of 2019, receiving the highest percentage of retention votes in the state. Judge Hammond practiced law in Warren County from 1983 until taking the bench, serving as Solicitor for Warren County Children and Youth Services, Solicitor for the City of Warren and Mental Health Review Officer for the Court in addition to his private practice.
Judge Hammond was born and raised in Corry, Pennsylvania. He graduated from Corry Area High School in 1976, Dickinson College in 1980, and the University of Pittsburgh School of Law in 1983, having earned Law Review honors.
Judge Hammond is married to Jackie (Collins) Hammond and they are the parents of two daughters, Madison Gurdak and Logan Hammond, and one grandson, Gray Gurdak.
The Honorable Paul H. Millin, Senior Judge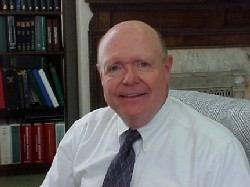 Paul H. Millin was appointed by Governor Casey to fill the vacancy created by the retirement of Judge Robert L. Wolfe in 1994. Following confirmation, he was sworn into office on November 1, 1994. Judge Millin was elected in 1995 and commenced his first full term on January 1, 1996. On January 1, 2006 he transferred to Senior Judge status.
Judge Millin was born and raised in Forest County, Pennsylvania. He graduated from West Forest High School, Maryville College, Maryville, TN, and the University of Tennessee College of Law. Following his graduation from law school, he served in the US Army from 1969 to 1971. Judge Millin is a member of the American Judicature Society, the American Judges Association, the Pa. Juvenile Court Judges Commission, the National Juvenile Court Judges Association and is a graduate of the National Judicial College.
Judge Millin is married to Cynthia (Faulkner) Millin and they have two sons and a daughter.
Supporting Staff
Jessica Arnold – Court Administrator
Tyra Olson – Deputy Court Administrator
Gabrielle Carlson – Deputy Court Administrator
Jackie Sherwood – Court Reporter
Tip Staff
Warren County
Sue Unen
Larry Sutton
Gary Wallin
Rodney Hoffman
Forest County